Trotz Dating mit Vanessa! Diogo geht als Verführer zu "Temptation Island VIP"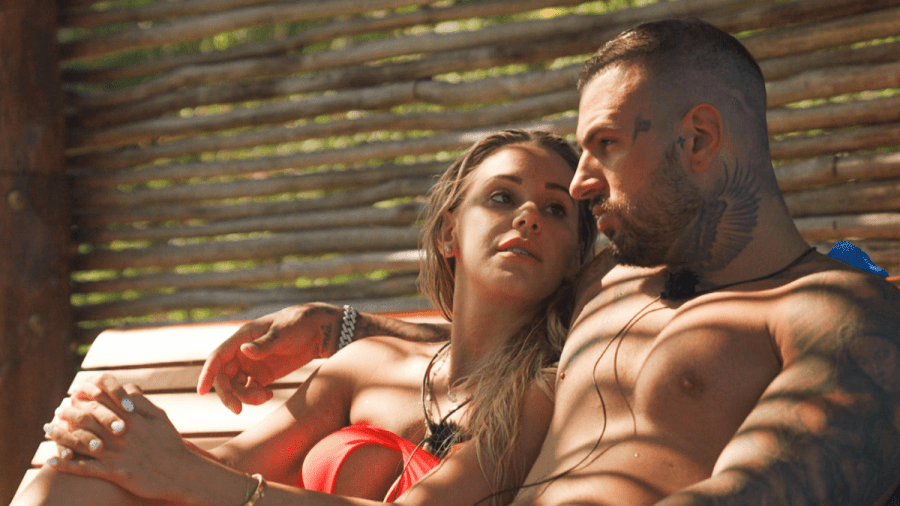 Die zweite Staffel "Temptation Island VIP 2021" steht vor der Tür! Dann werden wieder vergebene Pärchen die Treue des Partners auf den Prüfstand stellen. Die Versuchung ist allerdings groß, besonders für die Frauen der Schöpfung. Die müssen nämlich Herzensbrecher Diogo Sangre (28) widerstehen, der eigentlich gerade im Liebesrausch mit Vanessa Mariposa (28) sein sollte.
Vier verliebte Pärchen, 24 heiße Singles – darunter aber nur ein Diogo. Was hat der 28-Jährige an sich, mit dem er die Mädels reihenweise um den Finger wickelt? Gerade noch bei "Are You The One – VIP 2021" um das Herz der hübschen Blondine Vanessa Mariposa gebuhlt – schon ist er mit "Temptation Island VIP 2021″ in der nächsten Dating Show zu sehen. Und das, obwohl die beiden voll im Dating-Fieber zu sein scheinen.
Diogo: "Ich könnte mich verlieben"
Kennengelernt haben sich der Kölner und die Österreicherin bei "Ex on the Beach 2021". Schon dort hat Diogo so einige Techtelmechtel gehabt, abgeschreckt hat er Vanessa damit aber keinesfalls, eher im Gegenteil. Als die Show abgedreht war, kam es zwischen den beiden sogar zu mehreren Treffen, Vanessa lernte Diogos Freunde und Familie kennen – alles ganz platonisch natürlich.
Als Vanessa dieses Jahr bei der VIP-Version von "Are you the one?" dazu stieß, wurde dem Zuschauer schnell klar, dass der unnahbare Diogo gar nicht so unnahbar ist. Zumindest, wenn Vanessa seine Aufmerksamkeit sucht. "Ich könnte mich verlieben", waren sogar seine Worte. Dass er wirklich an ihr hing, wurde auch beim großen Wiedersehen deutlich. Hier gab der Kölner zu, mit Vanessa zusammen sein zu wollen. Die Blondine freute das sichtlich.
Sieh dir diesen Beitrag auf Instagram an Ein Beitrag geteilt von Are You The One? auf TVNOW (@areyoutheone.de)
Ein Tattoo spricht mehr als 1000 Worte
Die beiden waren außerdem zusammen im Urlaub in Lissabon und auf Mykonos, wie die Instagram-Posts verrieten. Und das soll nur platonisch sein?
Ob die beiden nun wirklich ein Paar sind, hin- oder her. Die Tatsache, dass sie sich im September gewissermaßen ein Partner-Tattoo haben stechen lassen, spricht für sich. Weil Diogo und Vanessa bei "Are You The One – VIP" leider kein Match waren (es aber wohl gerne gewesen wären…), ließen die beiden sich ein zerbrochenes Herz unter die Haut jagen.
"Unser Tattoo ist etwas ganz besonderes", schrieb die 28-Jährige unter ihren Instagram-Post. "Manchmal kommt ein Mensch und verändert dein komplettes Leben innerhalb weniger Sekunden…im Leben kann man nichts planen, alles hat einen Grund so wie es passiert und ich bin unglaublich dankbar für dieses aufregende, schöne Jahr."
Sieh dir diesen Beitrag auf Instagram an Ein Beitrag geteilt von VANESSA MARIPOSA | AYTO 2021 (@vanessa_mariposa)
Diogo als Verführer bei "Temptation Island VIP"
Ab dem 11.11. werden alle Zuschauer Diogo wieder dabei zusehen können, wie er versucht, die vergebenen Ladies aus der Reserve zu locken. Und das, obwohl er gerade Vanessa trifft?
Wann genau die Dreharbeiten zur neuen Staffel stattfanden, ist unklar. Demzufolge auch, ob die Turteltauben zum Zeitpunkt der Aufzeichnung schon einander näher gekommen waren oder nicht. Angeblich war Diogo zu dem Zeitpunkt noch Single. Dennoch darf nicht vergessen werden, dass unsere Lieblings-Reality-Stars mit dem (Fremd-)Flirten vor Kameras einen großen Teil ihres täglich Brotes verdienen. Was genau vonstatten ging, wissen also nur die beiden. Gewiss ist aber: Für Fans und Zuschauer bleibt es spannend! (IK)