"Hocus Pocus 2": Bette Midler und Sarah Jessica Parker kehren zurück!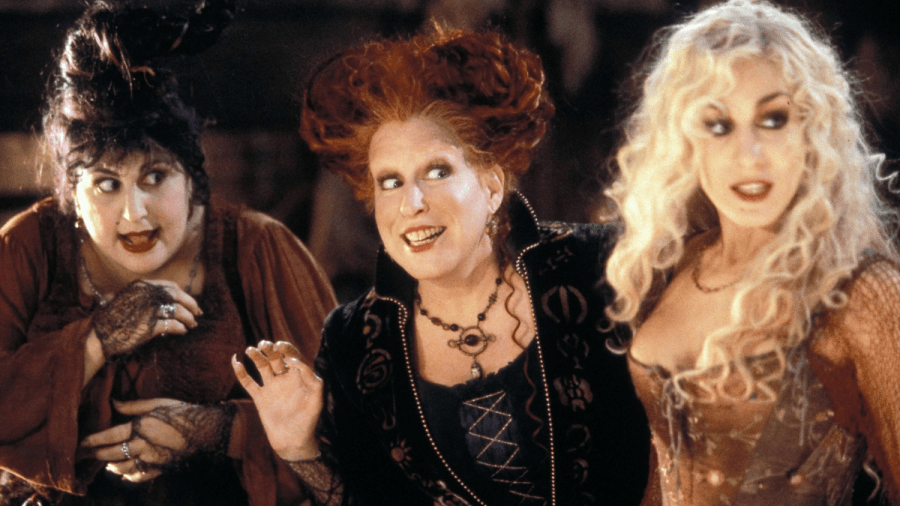 In Deutschland lief der erste Teil der Fantasy-Komödie auch unter dem Titel "Hocus Pocus – Drei zauberhafte Hexen". Lange haben Fans auf eine Forstetzung des Films von 1993 gewartet. Nun ist es soweit und immer mehr Infos zu den Darstellerin werden enthüllt.
Disney weiß wie man Spannung erzeugt: Passend zur mystischen Halloween-Stimmung enthüllte der Streaming-Dienst "Disney+"  über Twitter eine Vielzahl von Namen, die in der Fortsetzung des Fantasyfilm "Hocus Pocus" mitwirken werden. Darunter: Hannah Waddingham (47) und Tony Hale (51).
Neuer Film, alte Gesichter
Der Originalfilm bzw. erste Teil von "Hocus Pocus"  handelt von drei Hexen, die in Salem, Massachusetts, wieder auferstehen und von der großen Bette Midler (75), Kathy Najimy (64) und "Sex and the City"-Star Sarah Jessica Parker (56) gespielt werden.
Wie "Disney+" bekannt gab, kehren auch alle drei Damen für die lang ersehnte Fortsetzung des Klassikers von 1993 zurück: "Die schwarze Flammenkerze brennt zur Freude der Sanderson-Schwestern. Bette Midler, Sarah Jessica Parker und Kathy Najimy werden bald zurückkehren."
Wer nochmal einen Blick in den Trailer des ersten Teils wirft, dem fällt vielleicht die bemerkenswerten Kostüme der drei Hexen auf. Hierfür konnte der Film sogar den Saturn Award absahnen. Mal sehen, ob Teil 2 hier anknüpfen kann.
Sieh dir diesen Beitrag auf Instagram an Ein Beitrag geteilt von SJP (@sarahjessicaparker)
"Hocus Pocus 2″: Elf neue Darsteller
In seinem Post twitterte Streaming-Dienst außerdem, dass neue Gesichter dazu kommen, die wir alle bald kennenlernen würden. Auf elf neue Darsteller sollen sich die Disney-Fans freuen können. Wie nun bekannt ist, werden sich die "Ted Lasso"-Schauspielerin Hannah Waddingham und der "Arrested Development"-Star Tony Hale dem Cast des gruseligen Fortsetzung anschließen.
Das Unternehmens enthüllte außerdem, dass auch die Schauspieler Whitney Peak, Lilia Buckingham, Belissa Escobedo, Sam Richardson, Juju Brener, Froy Gutierrez, Taylor Henderson und Nina Kitchen mit an Bord sind. Aber auch der ursprüngliche "Hocus Pocus"-Darsteller Doug Jones wird an der Fortsetzung beteiligt sein.

"Hocus Pocus" Teil 1: Darum geht's
Im ersten Teil muss Teenager Max an Halloween seine kleine Schwester Dani beim Süßigkeiten Sammeln begleiten. Aus Versehen erweckt er dabei die drei Sanderson-Hexenschwestern zu neuem Leben, die im 17. Jahrhundert gehängt worden waren.
Mit den Seelen der Kinder von Salem versuchen sie ewiges Leben zu erlangen. Die Geschwister wollen das allerdings verhindern. Mit der Hilfe des hübschen Teenies Allison, einer sprechenden Katze und eines sympathischen Zombies nehmen sie den Kampf um das alles entscheidende Hexenzauberbuch auf.
In der geplanten Fortsetzung sollen drei junge Frauen die Sanderson-Schwestern wieder zum Leben erwecken. Die Vorfreude muss jedoch noch etwas ausgekostet werden – der Streamingdienst hat die Fortsetzung nämlich erst für Herbst 2022 angekündigt. (Bang/KT)